The past week has been pretty exciting in the gluten-free world.  First, the news of gluten-free/allergen-friendly  "center of the plate" Child Nutrition (CN) products for the school foodservice industry.  Elevation brands and Slade Gorton come together to launch fish sticks and chicken nuggets that meet the strictest Child Nutrition guidelines.  This makes me smile…simply because being different can be so tough on a child. 
Next up?  California Pizza Kitchen is back in the gluten-free pizza game.  Yep, it seems that they have really taken the time to do this the right way this time around.  I can't wait to give the new pizza a try and report back to you guys.  CPK is located just 5-10 minutes from our house, so even if we don't have time to dine out this week, I plan on placing a carry-out order.
You know the ads that get delivered to your house each week?  The ones that hang on the mailbox, get stuffed in the paper and sometimes arrive with the mail on Tuesdays?  Check out the ad I found nestled with the otherwise useless ads this week: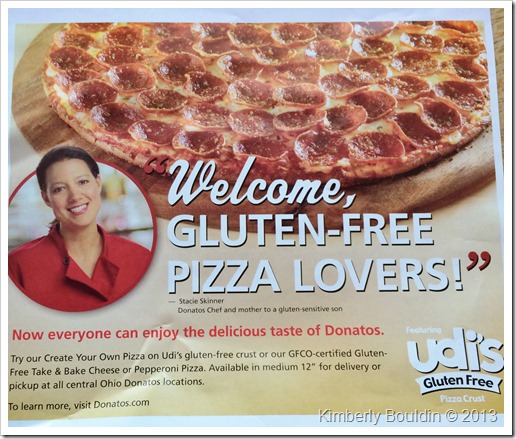 Gluten-free pizza ads…delivery or Take & Bake.  Udi's Gluten-Free.  Does it get any better?  The Donato's Take & Bake pizza is pretty spectacular and well worth the $13+ it costs. 
---
Sunday – Shrimp Scampi, brown rice pasta and salad
Monday – Bourbon Chicken, coconut baked brown rice, broccoli and salad
Tuesday – Easy Enchilada Bake and salad
Wednesday – Leftovers or take-out
Thursday – Grilled chicken tenders, baked steak fries and salad
Friday – CPK take-out
Saturday – Breakfast for dinner and fruit salad
---
Halloween is only a few weeks away!  Do you have costumes figured out?  Gluten-free candy on hand?  Make sure to check and double check each candy variety as ingredients and manufacturing processes can change.  This list was updated just recently for 2013 and the Celiac Disease Foundation has a printable list available for 2013 as well. 
Have a great week!
Kim