Over the past few years I have been gradually switching over to ground turkey from ground beef. We still eat ground beef on occasion, especially for burgers, but when I make tacos, lasagna or the like, I use ground turkey.  Jennie-O's Lean Ground Turkey is easy to find in our local grocery store and is always tender and juicy.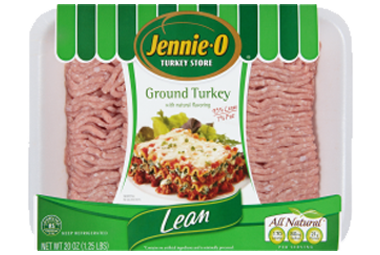 Jennie-O maintains a list of their products that don't contain gluten, so browse away to see what else they make that can make meal time fun and easy.
Check out this kid-friendly recipe for Chipotle Turkey Tacos that can be easy prepared on a busy weeknight.
Ingredients

½ cup fat-free sour cream
1 chipotle pepper in adobo sauce
1 (20-ounce) package JENNIE-O® Lean Ground Turkey
1 (1.25-ounce) taco seasoning mix (check label for gluten)
½ cup water
PICO DE GALLO
1 cup chopped plum tomatoes
¼ cup chopped white onion
3 tablespoons cilantro
1 jalapeño, diced
2 tablespoons lime juice
salt and freshly ground pepper, if desired
12 soft taco-size tortillas
1 cup shredded lettuce
1 cup shredded Cheddar Jack cheese

Directions

In blender, combine sour cream and chipotle pepper in adobo sauce. Blend until combined. Set aside.

In large skillet, cook turkey as specified on the package. Always cook to well-done, 165°F. as measured by a meat thermometer. Add taco seasoning mix and water. Cook until water is evaporated, stirring occasionally.

To make the pico de gallo, combine tomatoes, onion, cilantro, jalapeño, lime juice, salt and freshly ground pepper, if desired.

Spread each taco shell with sour cream mixture. Fill tacos with lettuce, turkey, pico de gallo and cheese.
If the recipe above isn't enticing enough to get your to switch to turkey, check out these reasons:
1.  It's delicious.
2. You can feel good about it.
3.  It's easy to find.
4.  It's versatile.
Lean ground turkey is an excellent source of protein and a great way to fuel your body.  For more information from Jennie-O, view this short video on making a better taco, just in time for Taco Tuesday!
*Jennie-O provided me with coupons for free products to use in a variety of recipes.  The thoughts and opinions shared here are mine and have not been influenced by anyone or anything.