Welcome to May! May is Celiac Disease Awareness Month, so let's kick the month off with some information, shall we?!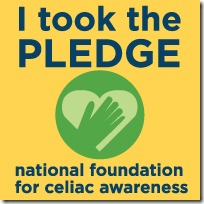 What is Celiac Disease? It is a genetically based autoimmune disease that is triggered by gluten. It is not an allergy.
Who has Celiac Disease? 1 in 133 people in the US are estimated to have Celiac Disease, though the majority are undiagnosed.
Is there a cure for Celiac Disease? The only cure is a gluten-free diet.
There are many different signs and symptoms of Celiac Disease. Check out the NFCA symptom checklist for more information.
GFIL top rated gluten-free product: Udi's Gluten-Free Bagels.