Time flies. As Jon's high school graduation approached, in addition to trying to figure out what happened to my kindergartener, I began to search for a bakery to make a custom gluten-free cake for the occasion. The last thing I wanted to have to worry about was baking a cake.
It was a good thing that I was able to find Soodles Bake Shop, as I was running around the day before graduation paying unpaid parking tickets and exchanging a graduation gown that was meant for someone an entire foot shorter than Jon.
Soodles Bake Shop bakes a wide variety of gluten-free products, including customized cakes. The facility/products are free of gluten, dairy, eggs, soy, fish/shellfish and peanuts. The customized cakes are available in several different sizes and two different flavors. We went with the 1/4 sheet cake (double layer) for $42. Half the cake was chocolate, the other half was vanilla.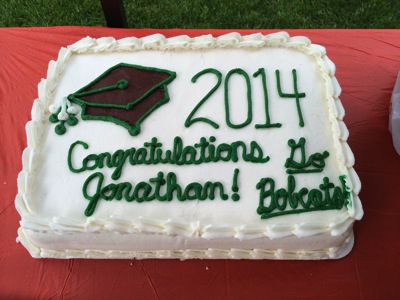 The cake was a huge hit and disappeared quickly. I had small pieces of each variety and while they were both very good, I fell in love with the chocolate. That really shouldn't be a surprise to anyone, as I haven't met a lot of chocolate things I don't like. 
Soodles Bake Shop was founded by Amy McCrea after she determined gluten, dairy, egg and soy were triggers for her digestive and eczema issues. Read more about Amy and Soodles Bake Shop here.  Thanks Amy for making our day even greater!