Although it seems like I have disappeared, I haven't fallen off the face of the earth, I promise. It's summer time and things are hopping. There has been an increase of personal training clients at the studio, school is out, marathon training is in full swing and the puppies take up a lot of my time. I still post daily over at Celiac-Disease.com and remain active on the Gluten-Free is Life Facebook page.  
You may have caught that I am "marathon" training in the paragraph above. I do believe that I said I would "never" run a full marathon again, however, we all know how the saying goes, "Never say never".  While I could go into great detail about the thought process that went into this decision, I won't bore you with all of that. The simple fact is that I may just be a little bit crazy. 
As marathon training ramps up, I am experimenting with different products to help hydrate and fuel me along the way. Below is the newest hydration mix I have sampled.
Skratch Labs Exercise Hydration Mix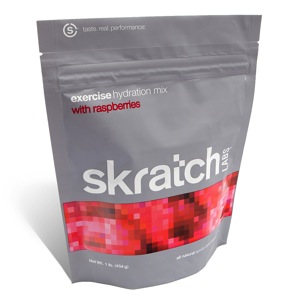 (source)
This is an all natural sports drink.  It replaces both the fluid and electrolytes you lose in your sweat while providing just enough calories to help fuel your working muscles. Flavored with only real fruit and containing no artificial colors or preservatives, our drink mix won't upset your stomach, leave a bad taste in your mouth, or challenge your IQ with tongue twisting chem-lab ingredients.  It just works better.  Maybe that's why, for years, top athletes have been secretly replacing their sponsors' products with drink mix made from Skratch.  You Sweat. We Hydrate.
I tried the Exercise Hydration Mix with Raspberries and really enjoyed the taste. It was not overly sweet like some sports drinks on the market and it really seemed to agree with my stomach, which is the most important thing. All of the Exercise and Everyday Mixes are free of wheat, gluten, soy and dairy. Skratch Labs products can be found in select stores or online. 
I can do all this through Him who gives me strength. Philippians 4:13