Did you know not all soy sauce is gluten-free?  It is one of those things that we don't think of right off the bat as possibly containing gluten.  If you have been following the gluten-free diet for any period of time, you are aware that some varieties are brewed with wheat, but there are a few safe choices out there.  Have you heard about Little Soya Soy Sauce?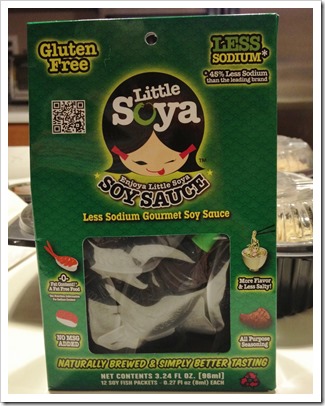 More about Little Soya:
We take our soy sauce very seriously.  Little Soya uses only the freshest, hand-picked ingredients we can find.  Executive chefs from across the country have refined the taste, helping create Little Soya's unique, smooth yet slightly sweet flavor.  You won't notice any uncomfortably salty aftertaste that so many traditional soy sauces bombard you with.

Little Soya meets all FDA standards for labeling as a gluten-free product.  Each batch of soy sauce we produce is tested twice by separate labs to ensure our results are accurate.  Currently, Little Soya tests at less than 10ppm gluten, far below the 20ppm FDA standard.

Little Soya also contains 45% less sodium than then leading brand on the market.   Our lower sodium content makes us great to use as a salt substitute in many of your favorite recipes.  You may even be surprised what new flavors you experience in some of your most worn out dishes.

Our fun, fish-shaped containers are re-sealable and recyclable!

Be on the lookout for our hot sauce, Little Saucy, set to launch in late 2012.

Little Soya [Gluten Free Less Sodium] INGREDIENTS:

INGREDIENTS: SOY SAUCE (WATER, SALT, DEFATTED SOYBEANS), WATER, SUGAR, CITRIC ACID, MODIFIED FOOD STARCH, DISODIUM INOSINATE AND DISODIUM GUANYLATE, POTASSIUM SORBATE (PRESERVATIVES).

CONTAINS – SOY

* SODIUM CONTENT HAS BEEN REDUCED FROM 920MG TO 510MG PER 15ML COMPARED TO THE LEADING BRAND.
I have been using Little Soya on a wide variety of foods since I first received the samples.  I love the flavor and the lower sodium levels.  Did you see the cute little fish-shape containers the sauce comes in?  They are re-sealable, making them easy to take along with you when dining out. Little Soya Soy Sauce can be purchased on Amazon.com.  Little Soy Soy Sauce has been nominated for the best gluten free soy sauce – so please head over and vote!
Little Soya has graciously offered to give 3 lucky readers each 1 package of Little Soya packets!  What fun!  All you have to do to enter is follow the directions in the Rafflecopter box below. Continue reading →