I received box of Perky's Crunchy Rice & Perky's Crunchy Flax Cereals made by Enjoy Life to review. I had seen Heidi, of Adventures of a Gluten-free Mom, make Crunchy Flax Cereal Bars and thought that they would be a perfect way for me to sample the Crunchy Flax Cereal. But first, some information about Enjoy Life and the Crunchy Flax & Rice Cereals.
From the website:
After 25 years, Perky's "Nutty" Flax and Perky's "Nutty" Rice ("nutty" in the name, not in the ingredients), have become part of the Enjoy Life® brand, and are now known as Enjoy Life Crunchy Flaxand Enjoy Life Crunchy Rice! Crunchy Flax and Crunchy Rice have the same great taste and texture that folks have come to enjoy, only a new name and look!

Like all Enjoy Life products, Crunchy Flax and Crunchy Rice are certified gluten-free by the GFCO and free of the eight most common allergens. They contain NO: wheat, dairy, peanuts, tree nuts, egg, soy, fish or shellfish. Also free of casein, potato, sesame and sulfites. Crunchy Flax and Crunchy Rice are made in a dedicated nut-free and certified gluten-free facility. Ingredients are additionally tested to ensure strict allergen control standards are met

All Enjoy Life® products are certified gluten-free by the Gluten-Free Certification Organization (GFCO), an independent service that supervises gluten-free food production according to a consistent, defined, science-based standard that is confirmed by field inspections, in order to achieve heightened consumer confidence and safety. Learn more at, www.gfco.org.
Crunchy Flax is 100% natural, sweetened with fruit juice and honey, has 50g of whole grain, 425 mg of Omega-3's and 6g of fiber per serving. It's not only a delicious, but nutritious way to start your day!
Crunchy Rice is 100% natural, sweetened with fruit juice and honey and is low fat and low sodium. Enjoy with milk or yogurt (including your favorite non-dairy alternatives), or throw in your trail mix for an extra crunch!!
I have enjoyed both of these added to my morning oatmeal & Greek yogurt.
Now, onto the recipe. I made some minor changes to Heidi's recipe.
1 cup of Xagave (agave nectar)
1 cup peanut butter (I used Trader Joe's Creamy Salted)
4 cups Perky's Crunchy Flax made by Enjoy Life
1 cup Lara's Rolled Oats
1/2 cup dried cranberries
1/2 cup Navita's Naturals Cacao Nibs
1. Line a 9 x 13 pan with parchment paper
2. In a large saucepan, combine Xagave and peanut butter over medium heat
3. Bring to a boil & cook for 1 minute, stirring constantly.
4. Remove from heat & add the remaining ingredients, mixing well & spread into prepared pan.
5. Use a piece of parchment paper to press into pan and flatten out.
6. Cool in the refrigerator for about 30 minutes or until the bars are cool. Cut into bars.
The cast of characters: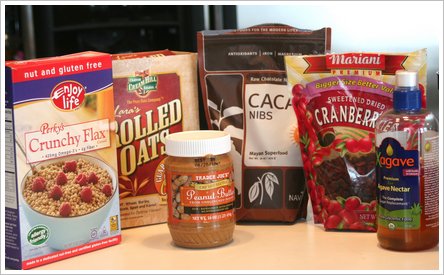 The bars, ready to cool: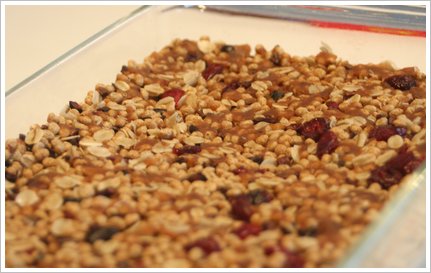 The bars: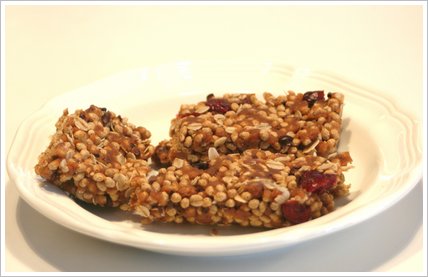 These not only make a great on-the-go breakfast, but a great pre-run fuel choice! Thanks for sharing a great recipe, Heidi!