It is no secret that I love sweet potatoes. I am happy to eat them in any shape or form. I was perplexed when I saw them on Kath's blog in the form of a puff. Well, almost. They puff up in the oven. This is so simple that anyone can make these.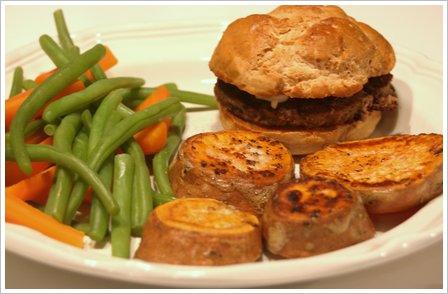 Preheat your oven to 350.
Cut your sweet potato into thick rounds and toss with EVOO, sea salt & pepper (you can use Pam if you are trying to cut back on calories, though olive oil is good for you). Spread out in a single layer on a baking sheet & cook for 30 minutes, flipping half way through.
Bump the temperature up to 400 for the next 20 minutes, again, flipping half way through. Total cooking time is about 50 minutes.
This makes them sooooo soft on the inside & a little crisp on the outside – like a puff!
I paired mine with a BBQ Turkey Burger on an Everybody Eats Deli Roll and steamed veggies.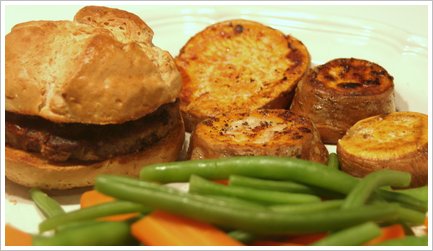 These turned out so good!! I dipped mine in some Trader Joe's Organic Ketchup. I even have some leftover for lunch because my sweet potato was the size of a small football!