I had the pleasure of sampling 2 of French Meadow's gluten-free products that I had not sampled previously. I love their brownies and cinnamon raisin bread, so I was really excited to try the blueberry muffins and pizza crust.
The blueberry muffins are life-changing. Seriously. I would not lie about something of this magnitude. I thought Jon was just gushing per usual when he tried a new product that he liked, but then I took a bite. I almost fell out of my chair. I could not believe how moist & fresh these muffins tasted! I got up to read the ingredients because I really did not think that these could be gluten-free. I assure you, they are, and they rock!
Now, check out the inside: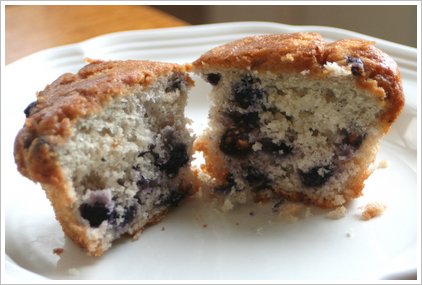 I love that there are so many blueberries in these babies! Another hit from French Meadow Bakery!
Now, the pizza crust. I loved the individual size. The package says that there are 3 servings per small pizza at 130 calories per serving – making the crust just under 400 calories. I added Prego Three Cheese (which now says "gluten-free" on the side) and mozzarella. I followed the baking instructions and it came out fantastic!
The crust comes on a foil pan, which is what you actually bake the pizza on. Very simple and quick. Jon really enjoyed the pizza & crust. I also snuck a bite and was impressed.
French Meadow is having a recipe contest! The Grand Prize is a one-year supply of French Meadow products and a $250 grocery gift card! The Runner Up prize is $100 grocery gift card. Some more details:
Send us your best gluten-free recipes featuring French Meadow Bakery Gluten-Free products for a chance to win one of many great prizes. Whatever your preference, sweet or savory, we're looking forward to tasting your favorite recipes.

We're searching for the best Gluten-Free recipes and need your help. Simply send us your favorite Gluten-Free dishes featuring French Meadow Gluten-Free products for a chance to win one of many great prizes.
Entries will be judged by French Meadow Bakery's chief culinarian, Chef Mark. The contest will be judged in two categories: sweet and savory, with recipe scoring based on taste, nutritional value, ease of preparation and originality.
Click here to enter your recipe!
Thank you to Mary Eva for the complimentary samples! We really enjoyed them! We still have Italian rolls to work on next week! I will make sure to review those once I get them tested.