Do you have leftovers sitting in your fridge?  Consider combining them and stuffing them inside a large baked potato for a quick meal.  We frequently have leftover veggies and chicken or taco meat, so last week I decided to take those and make a new creation.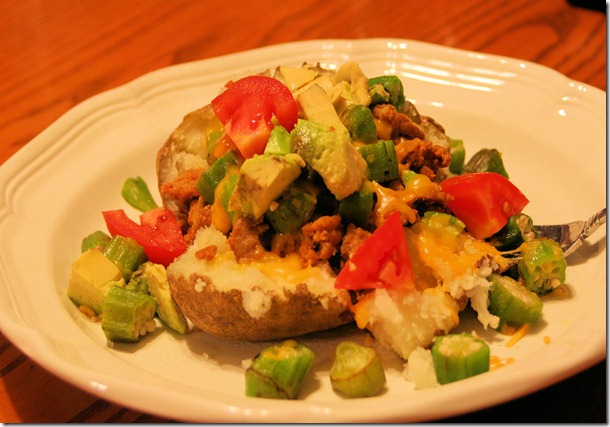 Spicy Taco Stuffed Baked Potato
leftover taco meat (ground turkey + taco seasoning – Old El Paso Original is GF)
baked potato
roasted okra
cheddar cheese
avocado
tomato
Tabasco Green Pepper Sauce
1.  Bake potato.  I do this step in the microwave & then finish off in the oven if I am not ready for the potato yet.  Simply wash the potato, prick with a fork and place in the microwave.  Microwave for 1-2 minutes, then flip & repeat.  Stick a knife or fork in to test doneness.  The knife or fork will easily slide in if the potato is done.
2.  Heat remaining leftovers and then place on top of/inside potato.  Top with cheese and the microwave for 30 – 60 seconds. 
3.  Top with remaining cold ingredients & enjoy.
Get creative & make whatever combos sound good to you.  This is a great meal for these chilly nights we have had lately and all of the ingredients are naturally gluten-free!!  If you don't have enough leftovers for the whole family, get a nice variety of toppings out – steam some broccoli, open a can of gluten-free chili or black beans. 
*****************************************************************************************
I didn't quite get around to my menu plan this week.  While I wasn't really watching the Super Bowl, we did have company over and I thought that being engrossed in my computer would not have been the most social way to go about the evening. 

  The rest of the week will look something like this:
Tuesday – Spaghetti with salad
Wednesday – Stuffed Shells, steamed broccoli & salad
Thursday – Burgers, baked steak fries, asparagus & salad
Friday –Shrimp Scampi, pasta, sugar snap peas & salad
Saturday – Pizza and salad
******************************************************************************************
I need to get busy with my Valentine's Day stuff…..I would love to make some heart shaped cookies this week!  In the meantime, make sure to check out my Valentine's Day reminder list and Karina's Gluten-free Chocolate Recipes for Love.