First, and foremost I want to say HAPPY BIRTHDAY to my mom and birthday buddy!  Mom, I love sharing this day with you!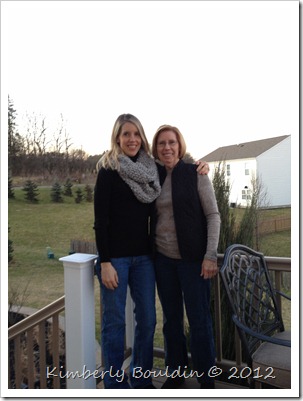 ---
Since today is my birthday, there will be no cooking for me!  We will be going out to dinner, which also means no dishes.  I really don't mind cooking if I had a built in maid.
Monday – Dinner out
Tuesday – Easy Enchilada Bake, green beans & salad
Wednesday – Burgers on Udi's gluten-free whole grain buns, parmesan steak fries and salad
Thursday – Bourbon Chicken, coconut baked brown rice, steamed broccoli & salad
Friday – Pizza and salad
Saturday – Cocoa coconut chili and salad
---
Weekly Recap
Bakery on Main announces $20,000 in Celiac donations
Tim Horton's gluten-free choices
NFCA upcoming webinar: Food as Medicine for Celiac Disease
The Best Gluten-Free to Follow in 2012
Burger King Fries – are they GF?
Peter & Kelli made bagel dogs back in December and I think that Jon will really like them.  Check out the recipe. 
---
I hope you all have a great week! 
PS – I also want to give a shout out to Erin over at Gluten-Free Fitness, as she is also celebrating a birthday today!  Happy Birthday, Erin!
Kim