Did you remember to Spring Forward?  I went to bed at 8:30 last night in hopes of catching that hour of sleep I was going to lose.  No, seriously, I was worn out from my 9 mile run and studying.  This week the weather is predicted to be awesome – 60s and 70s?  Yes, please!  The sun is out and there is not a cloud in the sky right now.  What a great way to start the week!
Have you guys ever tried these San-J sauces?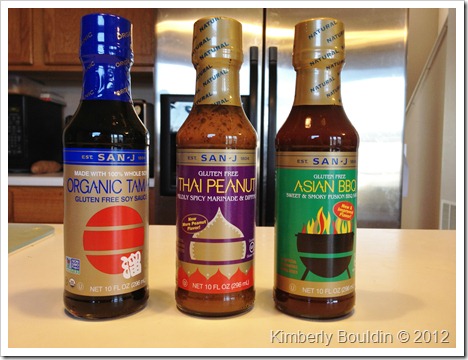 I have always been a fan of their tamari sauce and Thai peanut sauce, but haven't tried the Asian BBQ yet.  Aaron just tried the Thai peanut for the first time and he can't get enough of it!  He has made chicken stir fry a few times since I received these samples and it looks like I may need to be buying more now!  I hope to make a recipe this week using the Asian BBQ either with salmon or this Asian Green Tea BBQ Wild Rice.
Asian Green Tea BBQ Wild Rice

Created by: Amie Valpone
Ingredients
12 ounces fresh cranberries
1 ½ cups brewed green tea, chilled
1 small red onion, finely chopped
1 cup fresh kale, chopped
1 ½ cups wild rice
3 cups apple cider
2 large plum tomatoes, diced
2 celery ribs, cut into 1/4-inch-thick slices
2 Tbsp. olive oil
1 cup soy nuts
1/4 cup San-J Asian BBQ Sauce
1/4 tsp. freshly ground black pepper
1/4 cup fresh cilantro, finely chopped
Preparation
Preheat oven to 350°F. Plump the cranberries in brewed green tea for 30 minutes. Drain cranberries and set aside; transfer liquid to a large pot over medium heat. Add onions; cook until translucent. Add kale, cook for another 4 minutes.
In a large sauce pot, bring the wild rice and apple cider to a boil. Transfer mixture to a deep baking dish. Add onion mixture; mix well to combine. Bake in the oven for 1 hour 30 minutes or until the rice absorbs all liquid. Remove from oven.
In a large serving bowl, gently toss cooked wild rice with cranberries. Add plum tomatoes, celery, olive oil, soy nuts, San-J Asian BBQ Sauce and pepper. Garnish with cilantro.
Serves 4.
***It is important to note that not all of the San-J products are gluten-free.  The gluten-free products will be clearly marked. 
Sunday – Rotisserie chicken, Asian green tea BBQ wild rice and salad
Monday – Bison burgers, baked sweet potato, steamed broccoli & salad
Tuesday – Easy enchilada bake and salad
Wednesday – Chicken stir fry w/ Thai peanut sauce, brown rice & salad
Thursday – Chipotle take-out
Friday – Dinner with family
Saturday – Dinner with family
---
Don't forget to enter to win the
So Lucky "So Active" Box giveaway
.  It ends Monday night!
Rudi's Gluten Free introduces flour tortillas.
The newest installment of NFCA webinars: "Maintaining a Healthy Weight While Eating Gluten-Free: The Importance of Physical Activity and Mindful Eating"
Recall: Jelly Belly recalls Easter mix
The lowdown on gluten-free flour mixes
Larabar introduces new bars: Sweet & salty Uber bars
**The sauces mentioned above were sent to me free of charge for review purposes.