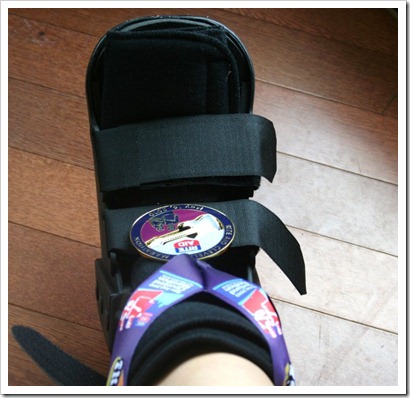 Once I was permitted to run again, I asked my sports med doctor about training smarter.  He suggested I join MIT and that is when I found out about heart rate training.  Being the crazy OCD, Type-A personality woman that I am, I follow directions, plans, etc pretty much to the letter.  If the plan calls for a 4 mile recovery run, then I will run as slow as I have to to keep my HR in Zone 1.  The HR training was frustrating at first, because I felt like I was crawling, but this year I have really started to see some positive results.
My Zone 2 runs have been faster.  My speed workouts have been done as prescribed, despite my bitching and complaining about Yassos.  My recovery runs are completed, though I feel like a turtle at times.  I toss in strength training, yoga and lately PT for my lower back (a non-running injury) and there you have my training plan.
Yesterday was the Earth Day Challenge Half Marathon – the first of 2 spring half marathons I had signed up for.  I had planned on running it as a training run, but a few friends suggested it was a great course to try to run a PR (personal record) on.  Cap City Half Marathon is a crowded race and I want to try focus more on fun and friends for that one in a couple of weeks.  So, I had a couple of goals in mind for Earth Day:
1.  Run faster than my previous PR last October 2011 – 1:57:31

2.  Run a 1:55 half marathon.

3.  Break 1:55 (pipe dream)
Met up with my Run DMC friends before the race – we all create quite the supportive community at races – it is truly amazing!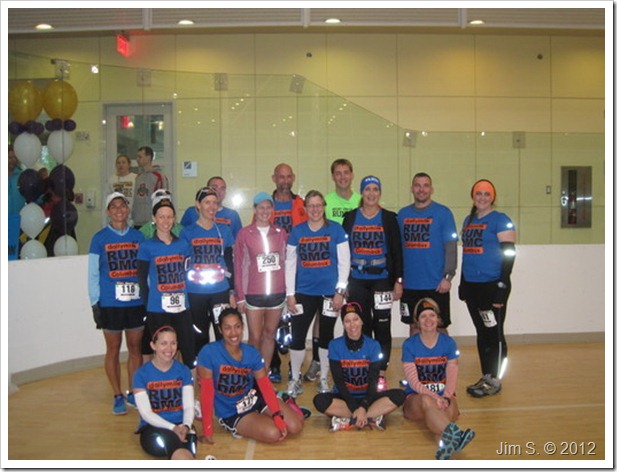 It was cold – like 38 degrees and overcast at the start.  Better than the 87 degrees that Boston had for their marathon last Monday, though.  I did appreciate that we were able to stay in the athletic complex until almost the last minute to avoid freezing our tails off.
Just after 8 AM we were off!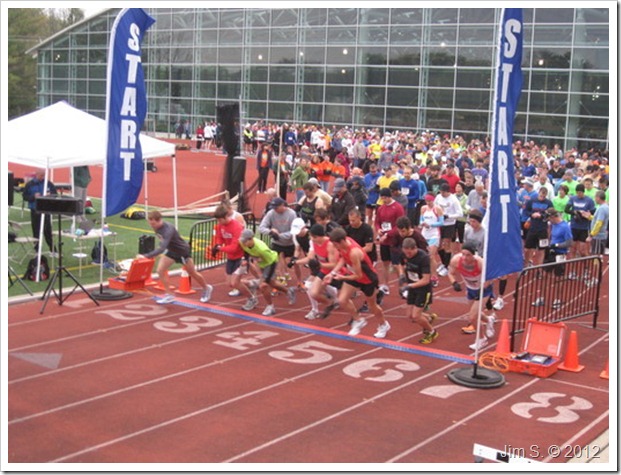 Look how small the race was!  I am used to running huge races, so this was a nice treat.  There was no weaving in and out of people – it was a great set-up!
The first four miles were hilly, to say the least.  Check out the elevation profile below.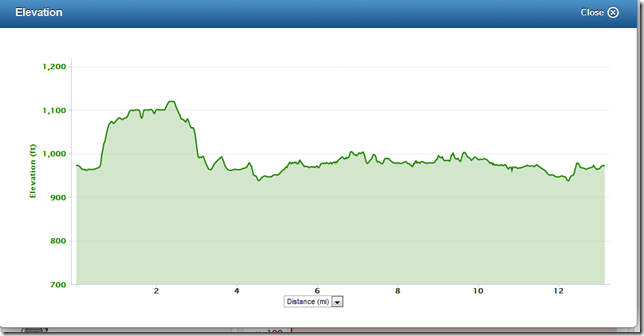 Talk about waking up in a hurry!  I tried to take the big hill conservatively, but it took me a little while to recover.  First mile was run at a 9:16 pace.  A little discouraging since I knew I had to average a 8:47 to hit 1:55.  I told myself to relax, there would be plenty of time (and flatter course) to make that up.  I was told the rest of the course was flat, which I don't completely agree with, but certainly better than the first 4 miles.
Once we hit the Kokosing Gap Trail, things got a little boring, but it was perfect for me to find my zone, listen to my music and settle into my goal pace.  Things started to get interesting when the leaders were passing us on their way back and then when we turned around and were passing the others on their way out.  This picture was taken by a fellow Run DMC runner on my way back down the trail.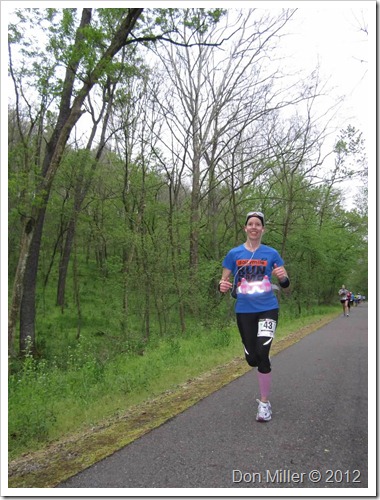 Miles 4-13 were run between 8:23 and 8:48/mile.  The race finished on the track of the Kenyon College Athletic Center and I had no idea coming in what my time was, but I knew I was under 2 hours.  I was tired of running at the pace I was running.  It was weird, it wasn't like I couldn't continue to run it, I just was ready to be done!  This picture was taken by a fellow MIT friend in the last mile.  I had no idea she was there!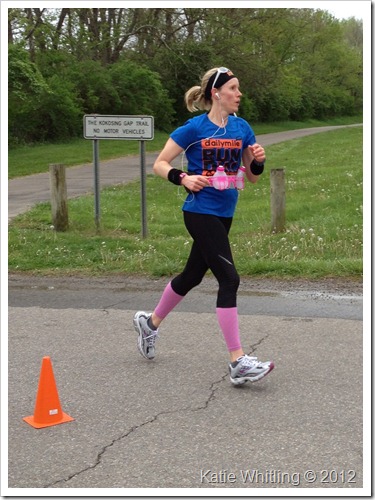 I picked it up in the last mile (8:23) and as I came around the corner of the track and saw 1:53 on the clock, I knew I had to make it in before it hit 1:54.  I did it!  1:53:52 was my official time!  I came in 2nd in my age group!  I cut almost 4 minutes off of my fall half marathon!
Since I began religiously following the heart rate training program laid out for me, I have only gotten faster.  I had to slow down to do it, but it has paid off.  This is not the kind of thing that happens right away, or even in a few months.  I began HR training in February of 2011 and I didn't PR a race until October 2011 despite trying twice before that race.  However, since then, I have PR'd every race that I have run – 2 half marathons and a 5K.  I truly believe that HR training has taught me how to listen to my body.  I am able to get my required training in at the appropriate intensities, while allowing my body to recover so that I don't overtrain.
So, what is my next goal?  A friend mentioned a sub 1:50 fall half marathon.  We shall see – it is "only" 4 minutes faster than I ran yesterday.