It is the last week of September!  Can you believe it?  The first day of fall was this past Saturday and the temperatures have sure seemed to follow the calendar.  Frosty, chilly mornings here!  It was so cold yesterday morning that Jon came in the house looking for an ice scraper for his car! 
In case you missed the post with my menu plan last week, I shared my favorite pumpkin recipes.  This week I was browsing the web for an updated gluten-free candy list.  I found one that was just updated September 22, 2012!  Of course it isn't all inclusive, but it has a nice wide variety of candy listed.  I can't seem to get enough of these: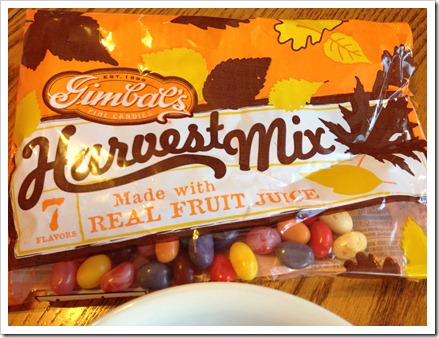 I kind of wish someone would hide them from me.  I know I have the option of not buying them, but you know…
---
Monday –
Baked chicken fingers
, steak fries, green beans and salad
Tuesday – Mexican pizzas, refried beans, corn and salad
Wednesday – Baked Ziti, broccoli and salad
Thursday – Leftovers
Friday – Make your own pizza and salad
Saturday – Perfect pork tenderloin, garlic mashed potatoes, zucchini and salad
---
Weekly Recap:
NFCA Webinar – "Eating for Two – How-To Tips on Managing Celiac Disease and Diabetes"
Arsenic in rice – Should Celiacs be Concerned?
Williams-Sonoma adds new baking mixes for the Holidays!
Columbus, Ohio Arena District gluten-free options