Hello, December!  At least the calendar says it is December, but the temperature sure doesn't!  Today the temperature got into the mid-60's!  It sure is odd to walk out of the house in Columbus, Ohio on December 3rd and not need a coat.  The morning greeted us with some dense fog – dense enough to cause a 2-hour delay in the schools! 
We were able to get out tree up yesterday – a week later than I normally get it up.  Better late than never, right?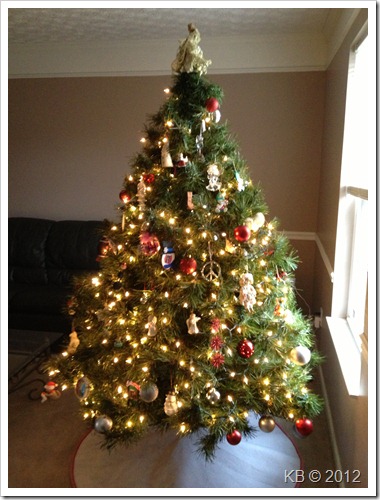 ---
Monday – Leftovers
Tuesday – Baked Ziti and salad
Wednesday – Grilled chicken salads with garlic toasted baguettes
Thursday – Turkey Tacos, black beans, corn and salad
Friday – Make your own pizza and salad
Saturday – Grilled steak fajitas or fajita salads
---
Week in Review:
Caribou Coffee Holiday Drinks – Gluten-free
Weigh-in – What is your favorite gluten-free cracker?
NFCA Webinar: You Ask, We Answer: 60 Minutes with Top Celiac Disease Researchers
Holidays – Healthy & Gluten-Free
Have a great week!