Last week ended with yet another birthday celebration, but this time with some running friends.  I firmly believe that you can't have too many celebrations!  We had planned to celebrate another friend's birthday the same night, but she was unable to make it at the last minute.  No worries, we still had a wonderful time at a new-to-me place: Local Roots.
(source)
I was not the only one attending the dinner that follows the gluten-free diet – my friend Melissa also follows the diet for health reasons.  Melissa has dined at Local Roots many times in the past and raved about their menu selection and service.  A little more about Local Roots:
Local Roots American Cuisine & Spirits is in the heart of historic downtown Powell, providing fresh & flavorful dishes to tempt your taste buds. Local Roots is serving lunch, dinner, homemade desserts & a full array of happy hour fare.
I couldn't believe the options available once I sat down and started to peruse the menu.  I settled on a roasted vegetable salad for starters and then split the Greek pizza with my friend Melissa.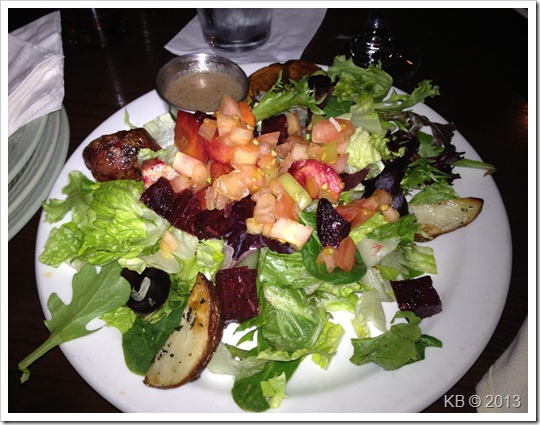 The salad was filled with roasted beets, potatoes, chopped lettuce and tomatoes.  What a wonderful combination!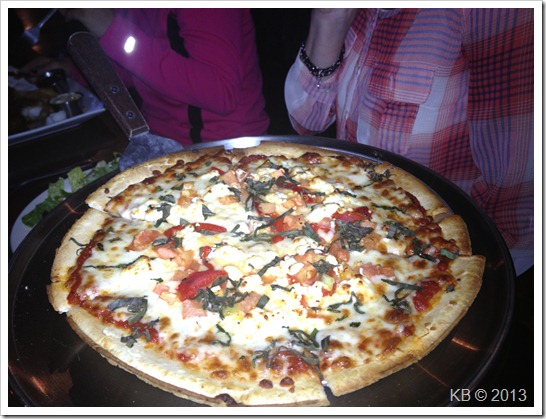 The pizza crust was light, crispy and had a great flavor!  We opted to have the red sauce on our Greek Pizza instead of the white sauce.  I loved the combination of flavors!  I will definitely be going back to try some of the other menu items, especially the spaghetti squash!
There weren't any gluten-free desserts on the menu, but I mentioned the Jeni's Splendid Ice Cream parlor across the street as a possibility.  No one really said anything, but I didn't think much of it at the time. Turns out Melissa baked a gluten-free chocolate cake with cream cheese frosting for dessert! It was out of this world!
I am so thankful to have such a wonderful, understanding set of friends who all like to celebrate just as much as I do!  Thanks, ladies!
Don't forget to enter to win a tool kit to help find Rudi's Gluten-Free "Soft & Fluffy"!