My friends gave me a gift card to Fleet Feet for my birthday, so I was excited to go shop and find something new and fun!  When I normally shop at Fleet Feet it is because I need something, which isn't necessarily the same thing as wanting something.  I had my eye on a pair of sassy running tights, but have had issues in the past with Nike pants being long enough to cover my ankles, which in the weather we have been having is essential. 
When I began browsing the store, Chelsea came over and showed me the new Nike Legend 2.0 Tight Fit Pants.  The print that caught my eye was a wild zig zag in black, charcoal grey and grey (not shown on the Nike website).  I mentioned my concerns and she insisted I try them on because they were surprisingly long.  In fact, Chelsea was wearing a pair in a solid grey color.  I am so glad that I listened because I have fallen in love with these pants!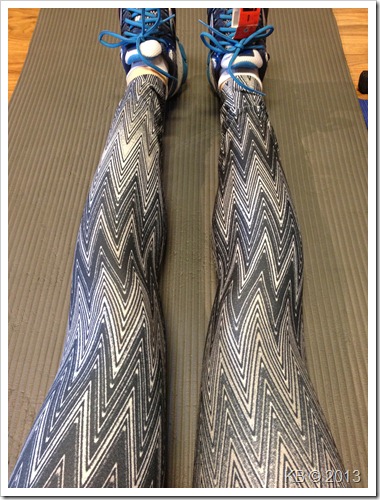 How cool are these?!  You can't tell because I am sitting down in this picture, and have shoes on, but the pants come down over my heel, even when pulled all the way up!  I was shocked at how long they are!  They are also uber comfortable! I didn't want to take them off! 
Some cool facts about these pants:
Made from at least 50% recycled polyester
Engineered for superior athletic performance and lower environmental impact
Minimum of 10 plastic bottles were recycled to make this pant.
The Nike Legend 2.0 Tight Fit Pants retail for $75.00, but cost much less out of my pocket thanks to my girls – you guys ROCK!
I wore these to core class on Sunday and they stayed put – no falling down or riding up.  I can't wait until it warms up a little outside (I draw the line at 20-25 degrees if at all possible) so I can wear them for a run!
Have you worn Nike tights? Do you have a favorite running tight?
---
Don't forget to enter to win a tool kit to help find Rudi's Gluten-Free "Soft & Fluffy"!