Hooray!  The groundhog did not see his shadow yesterday!  Why is it something so silly (Come on you know it is!), gets so many people, so excited?  I mean, come on, it's a groundhog predicting the weather/arrival of spring.  As I was running down the Olentangy Trail yesterday with my MIT group, I was chatting with a fellow runner about it.  We are putting our faith in a rodent to tell us when spring will come.  Not only that, but we then get ecstatic when we hear there is an early spring despite it being 15 degrees with 15 mph winds and snow cover on the ground.  Have you ever wondered about the accuracy of Punxsutawney Phil, or your local groundhog (ours happens to be Buckeye Chuck).  What if their opinions differ from one another?  I did some research and the accuracy of the groundhog is roughly 39%.  Sounds to me like that is right in line with the local meteorologists' accuracy.  Haha!  Just joking!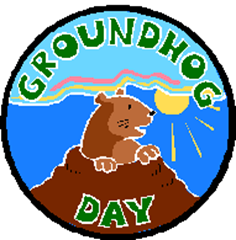 P.F. Chang's is offering 20% off online orders for "The Big Game" today.  Simply order online and enter "KICKOFF" in the promotion code field.  Enjoy!
---
Word on the street is Glutino has a toaster pastry (think Pop Tarts, but gluten-free) ready to hit the shelves at Whole Foods.  This could make a lot of gluten-free children very happy, especially if the child has experienced the gluten-filled version.  New gluten-free products make me happy.  Not so much for myself, as I aim to limit replacement products, but for kids who feel left out.
I also read Trader Joe's has a gluten-free all-purpose flour on their shelves!  This is exciting news, as the price is lower than some of the other versions on the market at $3.99 for 1lb.  It is important to note that the blend does not contain xanthan or guar gum like some of the other blends on the market.
---
Sunday – Appetizers, including chicken fingers, and such for "The Big Game"
Monday – Spaghetti and meatballs, salad
Tuesday – Easy enchilada bake and salad
Wednesday – Italian grilled chicken, coconut baked brown rice, snow peas and salad
Thursday – Breakfast for dinner and fruit salad
Friday – Gluten-Free Sonoma Flatbread pizza and salad
Saturday – Take-out
---
Week in Review:
Gluten-Free Food Tax Deduction information
Did you win the Pacific Natural Foods giveaway?  Click on over to find out!
NFCA Webinar: Sex and the Celiac: A Focus on Reproductive Health
Alert: Good Seasons Italian Dressings Packet Change
Recipe: Pulled Pork & Roasted Veggie Salad
Have a great week!