As much as I was bummed to see that there was snow cover when I got up this morning, it was kind of cool to see these prints outside on our front walk when I headed out for my 3 mile recovery run.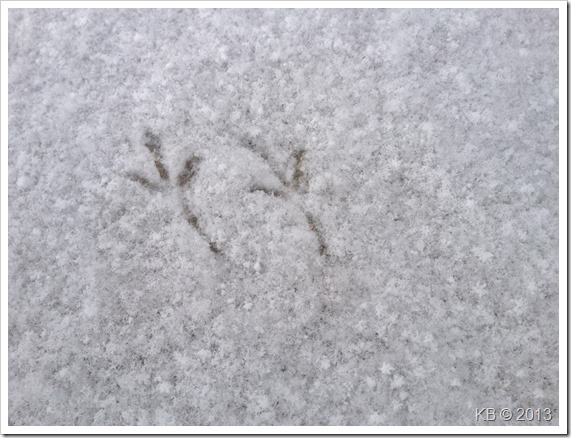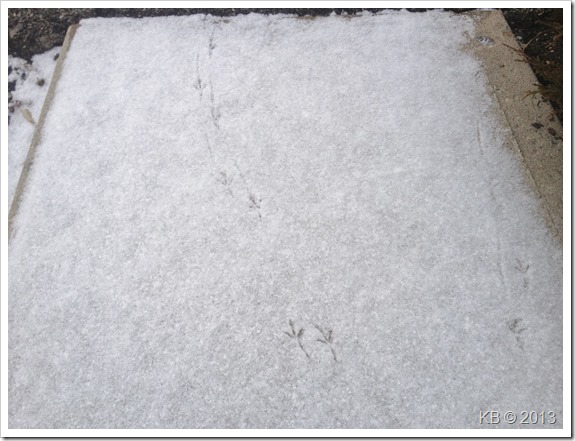 A birdie!!  I almost didn't take the time to pull my phone out of my pocket to snap a picture, but I am glad I did.  The poor bird is probably wondering why it is snowing in March, just like the rest of us.
---
Weekly Menu:
Sunday – Chipotle
Monday – Rotisserie chicken stir-fry with quinoa and roasted veggies
Tuesday – Easy Enchilada Bake, corn and salad
Wednesday – Bourbon chicken, coconut baked brown rice, sugar snap peas and salad
Thursday – Dinner with friends at a new-to-me gluten-free restaurant!
Friday – Make your own pizza and salad
Saturday – Breakfast for dinner or bison burgers and steak fries
*For more gluten-free meal ideas, make sure to visit Jo-Lynne over at Musings of a Housewife.
---
Week in Review:
Enter to be one of 5 lucky readers to win 2 tins of Karlie's Kookies
Heart Rate Guided Training Update
Glutenfreeda Launches New Products at Expo West
Review: Katz Gluten Free Cinnamon Raisin English Muffin
Help find a cure for MS by donating to Miles for Myelin!  A $5 donation will enter you to win a gluten-free gift box worth over $50!
Have a great week!