Welcome to August!  Where has the summer gone?  Not only does the cool weather make it feel like fall, but the kids are heading back-to-school next week!  This is the last full week of summer vacation, so hopefully we can squeeze in one or two more pool days this week.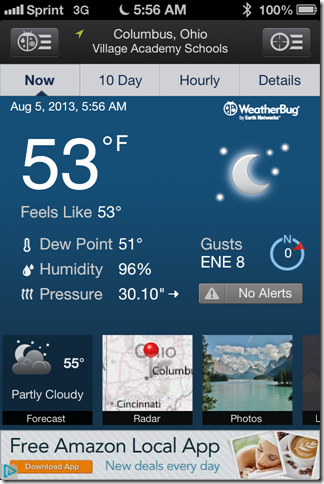 Check out the temps as I headed out for my morning miles!  Love days like this!
---
Weekly Menu
Monday – Hot dogs on Udi's Gluten-Free buns, baked steak fries and salad
Tuesday – Soft tacos, black beans, corn and salad
Wednesday – Italian grilled chicken, coconut baked brown rice, broccoli and salad
Thursday – P.F. Chang's with friends
Friday – Make your own pizza and salad
Saturday – Burgers, sweet potato puffs and salad
---
Week in Review
Did you hear?  FDA standardized gluten-free labeling!  Enter a giveaway to win a box of Glutino Toaster Pastries. 
NFCA offers a gluten-free college took kit
Have a great week!
Kim