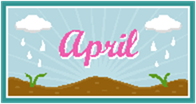 Have you ever been called for jury duty?  I have been called for the first time and will go twice this week twice again in a couple of weeks.  No, this is not an April Fools joke!  There is a possibility that I won't have to go at all, but I have to be honest, I am kind of looking forward to it.  I am curious to see how the system works and it will be a nice change of pace for a couple of days.  I am not sure I would feel the same way if I had to go every day for a week or two.
---
Onto the meals.  Here is the plan for the week – let's see if I can stick with it this week, shall we?
Sunday – Rotisserie chicken, brown rice, snow peas & salad
Monday – Chicken fingers, sweet potato puffs, steamed broccoli & salad
Tuesday – Fajitas, black beans, corn & salad
Wednesday – Grilled chicken fettucine Alfredo, roasted zucchini and salad
Thursday – BBQ pulled pork sammies (never made last week), steak fries, steamed green beans & salad
Friday – Make your own pizza and salad
Saturday – Take-out
---
Week in Review:
Gluten-free Matzo for Passover
P.F. Chang's expands their gluten-free menu.
Dogfish Head Tweason'Ale – new gluten-free beer review
Review: Pastariso Gluten-Free Instant Mac & Cheese
Review: 4 Ingredients Gluten-Free Cookbook
Don't forget to enter my giveaway to win a copy of Elizabeth Gordon's new cookbook!