Welcome to October!  I love fall and everything about it except that winter follows it!  Oh well, I'll enjoy it while it lasts.  I kicked off this month with a new pumpkin dessert: Chocolate Pumpkin Crunch Cake.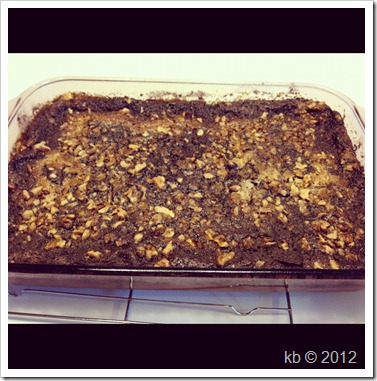 The dessert looks like a pan of brownies with walnuts on top here, but I promise you, that is just the beginning.  Under that layer of Devil's Food Cake is a layer of pumpkin, that is much like pumpkin pie.  Check this out…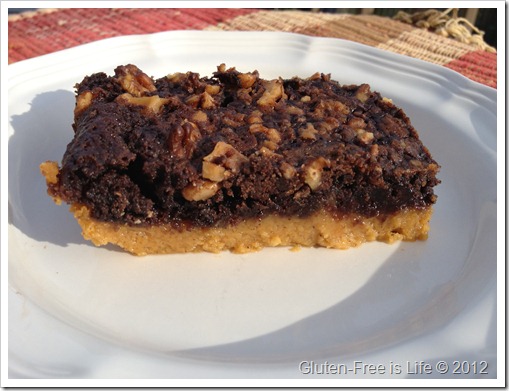 Pumpkin on the bottom, cake on top.  Feeling a little sassy?  Flip it!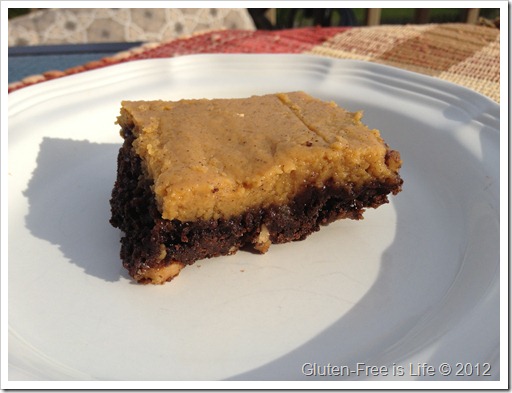 Now the cake that was on top acts like a thick crust on the bottom.  I know, right?
I found the inspiration for this dessert on Pinterest, however it was made with non-gluten-free cake mix and it was yellow cake.  I knew that I wanted to make the dessert, but I only had Devil's Food mix.  I happen to love the combo of chocolate and pumpkin, so Chocolate Pumpkin Crunch Cake was born. 
Here is a quick run down of how to make the dessert and then I promise to get on to the menu plan.
Ingredients

1 box Betty Crocker Gluten-Free Devil's Food Cake Mix

1 can (15 oz) pumpkin puree

1 can (12 oz) evaporated milk

3 large eggs

1 1/2 cups sugar

1 teaspoon cinnamon

1/2 teaspoon salt

1 cup walnuts (chopped)

1 cup butter (melted)

Method

1. Heat oven to 350 degrees.

2. Spray 9 x 13 inch glass dish with cooking spray

3. Mix pumpkin, milk, eggs, sugar and salt well on low in a mixing bowl, pour into prepared dish

4. Sprinkle dry cake mix evenly over the top of the pumpkin mixture

5. Sprinkle chopped walnuts over the top of the cake mix and drizzle evenly with melted butter.

6. Bake for 50-55 minutes or until cake mix is mostly set in the middle.
*Can be served warm (awesome) or cold (also awesome).  Don't try to invert the cake while it is warm or it won't hold together. 
---
Monday – Teriyaki chicken, brown rice, sugar snap peas and salad
Tuesday – Turkey tacos, black beans, corn and salad
Wednesday – BBQ pulled pork sammies on Udi's gluten-free buns, cheesy potatoes and salad
Thursday – Leftovers
Friday – Make your own pizza with Venice Bakery gluten-free crusts and salad
Saturday – Take-out
---
Giveaway ends tonight, so don't forget to
enter to win a copy of The Gluten-Free Edge
!