I had the pleasure of reviewing a pretty cool product over the past couple of weeks.  I often speak about the importance of fueling properly before, during and after my workouts and I am always up for new products to help me reach those goals.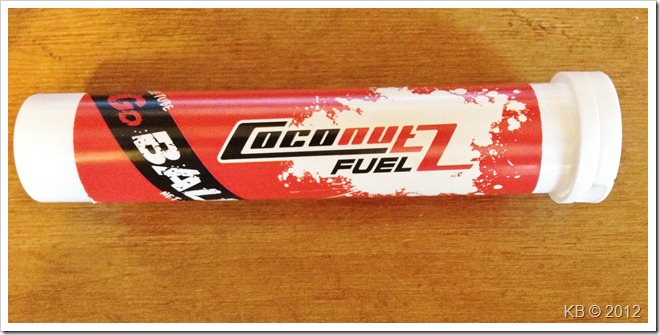 The coolest thing about CocoNutz Fuel is the nifty container they come in!  The tube is refillable with packs of Coconutz so that they are easy to dispense mid-run or mid-ride.  More about the product:
ENERGY BAR OF THE PAST

Athletes have been forced to deal with:

Bulky energy bars
Sticky energy gels and gummies
"Synthetic" nutritional products that can barely be passed off as food
Unwieldy wrappers and packaging that keep you from your fuel during exercise

NUTRITION OF THE FUTURE

CocoNutz Fuel overcomes these obstacles through:

Delicious, bite-size energy balls made with raw, all-natural ingredients
An infusion of coconut oil—an energy producing superfood for athletes
A handy flip-top tube, allowing for convenient fuel consumption during exercise
CocoNutz Fuel is also vegan, non-GMO, and gluten free!
I sampled the Cherry Cashew Attack (I think – they weren't labeled, but they had a cherry undertone to them) and was really impressed with the flavor and texture.  I love that I can pronounce the ingredients and that they played nice with my stomach, which isn't always the case for me.  I used these mainly to refuel because I am so close to my fall races that I don't want to mess with what is working for me during my long runs.  I love that I can have a couple of the CocoNutz energy balls after a workout to hold me over until I can sit down for breakfast.  I may have even been spotted carrying these in my purse and snacking on them in a movie theater as an alternative to candy!
CocoNutz comes in three varieties: Cherry Cashew Attack, Berry Almond Explosion and Mango Macadamia Madness.  The product can be purchased at a limited number of retail locations and online.
When I have reviewed or talked to my friends about this product and others containing coconut oil, I often hear that they don't want to try said product because they don't like coconut.  Here is what CocoNutz has to say about that topic:
But I don't like the taste of coconut—will I enjoy CocoNutz Fuel?

Of course we're biased, but yes, you will enjoy CocoNutz Fuel. In fact, the coconut oil and coconut flour impart a subtle flavor that does not taste like the classic sweetened coconut you'd find in most stores.
And we're all about satisfaction with the product, so if you don't like them, let us know and we'll make it all better for you.
For a review from another gluten-free athlete who used CocoNutz Fuel for cycling nutrition, make sure to visit Erin's blog.
**The product reviewed in this post was sent to me free of charge for review purposes.  The thoughts and opinions shared here are mine and have not been influenced by anyone or anything.
---
Thanks to the overwhelming number of people who entered my Rudi's Gluten Free Giveaway!  To see if you won, click here!