Phew!  What a whirlwind the past few days have been!  More on that (celebrations) later this week.  Before I move onto the meal plan for the week, I want to show you what I did to entertain myself today.  I was looking for a fun bowl or container to put some popcorn in to take pictures of for a review and couldn't find anything suitable, so I ended up using a wine glass.  What a fun way to eat popcorn!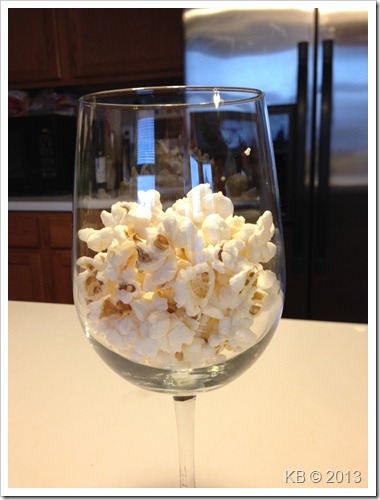 These wine glasses hold 7-9 oz of wine if they are filled most of the way up, so they don't get used often.  I love my new popcorn dish! 
---
Now, let's get down to business – the menu plan. 
Monday – Rotisserie chicken with rice or salad, green beans
Tuesday – Ground beef tacos, black beans, corn and salad
Wednesday – Thai Peanut Salmon, quinoa and zucchini
Thursday – Baked Ziti and salad
Friday – Breakfast for dinner and fruit salad
Saturday – Take out
Sunday – Italian grilled chicken Alfredo, asparagus and salad
---
Don't forget to enter the
Daiya New Year's Giveaway
– only a few hours left!
Red Lobster gluten-free options
Review: Bob's Red Mil Gluten-Free Museli
Have a great week!