How was your weekend?  Mine started out with the Cap City Half Marathon and orange and white tutus!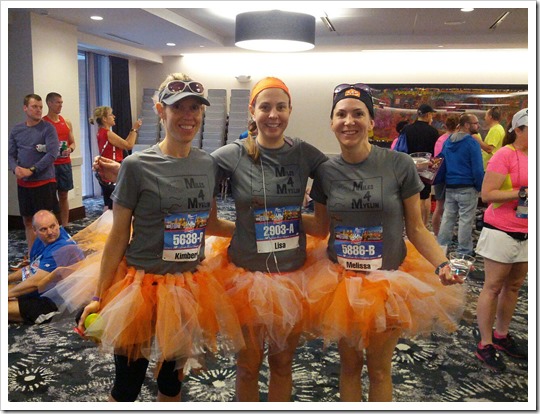 More on Cap City later this week.
---
Mother's Day is just around the corner.  Are you ready?  I can't believe that I am going to say this, but aside from buying a few cards, I am ready to go!  We are having family over on Saturday for our annual Mother's Day get together, so much of this week will be spent preparing for that. 
The Plan for the Week
Monday – Leftovers (meeting at the school)
Tuesday – Italian grilled chicken Alfredo, brown rice pasta, roasted broccoli and salad
Wednesday – Burgers on the grill, sweet potato puffs and salad
Thursday – Breakfast for dinner
Friday – Make your own pizza and salad
Saturday – Ham, garlic mashed potatoes, green beans/broccoli and carrots, salad <—Sounds a lot like Easter!
---
Week in Review
Tyson Gluten-Free Chicken Nuggets & Tenders
Food Should Taste Good Kettle Corn Tortilla Chips <—Holy Yum!
Kinnikinnick Launches Soft Bagels
Today is the last day to enter to win 2 bags of Glutino pretzels!
Have a great week! 
What are you getting your mother for Mother's Day?