Last Friday we went to King's Island for Aaron's yearly company picnic.  Last year was the first time I noticed the theme park offering a decent gluten-free option for patrons – gluten-free pizza.  When planning for the trip this year, I knew I had a higher mileage weekend coming up, so I packed my lunch to make sure I could get the nutrients I needed, but sure wish I would have known about these new options: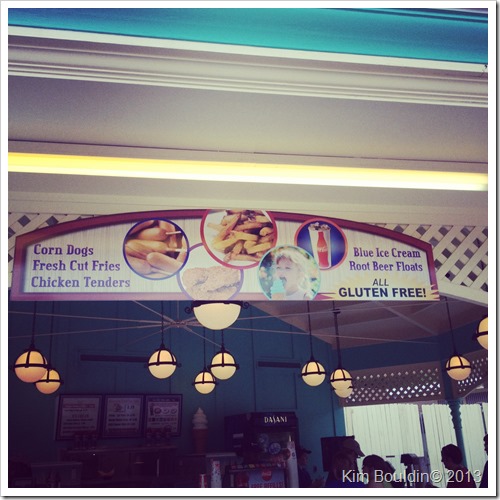 The Coney Potato Works located in the Coney Mall section of the park has the following gluten-free options:
Fresh-cut Thick Fries
Gluten-Free Chicken Tenders
Gluten-Free Corn Dogs
Gluten-Free Soft Serve Ice Cream
Gluten-Free Beer
I have to be honest, I was bummed that I had finished eating lunch only 30 minutes before spotting this.  I ran up to the counter to verify the entire place was gluten-free and may have done a little dance when the employee behind the counter confirmed that yes, everything was gluten-free.  This is awesome news and I hope that this is a permanent addition to the gluten-free options at the park. 
---
Weekly Plan
Monday – Grilled chicken fettuccine Alfredo, broccoli and salad
Tuesday – Pulled pork tacos, black beans and salad
Wednesday – Leftovers
Thursday – Burgers on the grills, sweet potato puffs or baked beans and salad
Friday – Make your own pizza and salad
Saturday – Take-out
---
Weekly Recap
Don't forget to enter to win a bundle of Glutino gluten-free goods!
Need workout motivation?  See how I stay motivated.
Dunkin' Donuts to offer gluten-free donuts and muffins nationwide
Have you tried the new Vanilla Chex?  Check out my review!
Have you heard?  Gluten-free Goldfish from Pepperidge Farm!  We found and sampled the Buffalo Wing variety.
Have a great week!
Kim